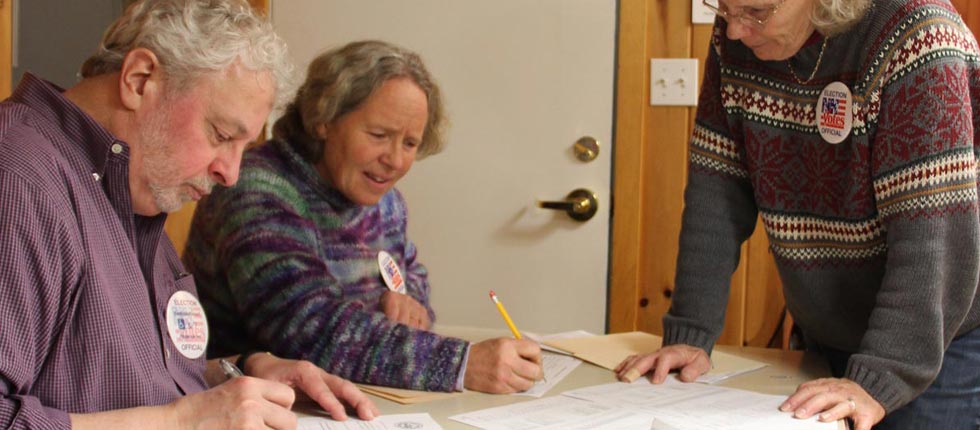 2016 Presidential Primary
Tuesday, February 9, 2016 … Primary votes have been cast.
The smallest town in New Hampshire will be out to cast their ballots for the 2016 Presidential primary on Tuesday, February 9th.  Few towns can boast 100% voter turnout!
New Hampshire allows towns with fewer than 100 residents to open the polls at midnight and close them as soon as all registered voters have cast their ballots. Voting booths are set up in the Hart's Location Town Hall which was once a former Appalachian Mountain Club hostel building.
Lots of planning and coordination is needed for a successful event even in the smallest town of New Hampshire. Communications are a challenge when WiFi is not available and cell service is very limited. Media attention is always great. Voters have grown accustomed to being photographed and interviewed during their voting process.  Media from around the world make contact for phone interviews and a variety of publications send onsite representatives.
Hart's Location polls opened at midnight and closed at 12:06 a.m.
Results provided at 12:18 a.m. by Mark Dindorf, Chair, Board of Selectmen, Town of Hart's Location, NH – the First Incorporated Town in the Nation to Vote.
Primary Photo Gallery –
View our gallery of primary night photos. Click any thumbnail to enlarge and view as slideshow. Thank you to the contributing photographers: Ed Butler, Ron Zager and Adrees Latif with Reuters.
Photo above © Reuters.
RESULTS —
Democrats:
Bernie Sanders – 12
Hillary Clinton – 7
Mark Stewart Greenstein – 2
Republicans:
Donald J. Trump – 4
Marco Rubio – 1
John Kasich – 5
Chris Christie – 2
Jeb Bush – 1
Ben Carson – 1